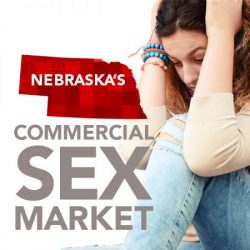 Every month, 900 individuals are sold for sex, often multiple times, in Nebraska. Now, a research report from the Women's Fund of Omaha defines the commercial sex industry across Nebraska and identifies the proportion of the industry where trafficking may be occurring.
"This is the first look at empirical data of what the commercial sex trade looks like in our state and how many individuals it is affecting. It clearly illustrates that this is in all of our backyards," said Meghan Malik, trafficking project manager at the Women's Fund of Omaha. "No zip code or neighborhood is immune – sex trafficking is happening in our communities."
The report, "Nebraska's Commercial Sex Market," defines the size of the market and characterizes individuals sold for sex as well as explores the interconnected market of what's happening in our state. The research is focused on data leveraged from Backpage.com, a website like Craiglist, that accounts for 80% of online commercial sex advertising. In early January 2017, Backpage.com shut down its escort section as a result of federal pressure.
"This shutdown will not affect either the supply or demand for individuals sold for sex. It's not about how the market size will change, but rather where these individuals will be sold next and what online hub will be used," said Malik. "In fact, the shutdown of Backpage increases the vulnerability of those sold for sex making an already tough situation even worse."
Five Backage sites across the state were identified: Omaha, Lincoln, Grand Island, North Platte and Scottsbluff. Demand is strong in each of the five Nebraska Backpage cities, and it spills over to nearly every town and city along I-80. Sex buyers create this demand and their preferences create the trafficking environment.
Based on Backpage alone, 70-75 percent of individuals sold for sex in Nebraska show some sign of being very young or potentially controlled by a third party – both indicators of trafficking. One in every five individuals sold for sex in Nebraska is sold in multiple markets across the state. Additionally, 11 percent of those being sold for sex online are advertised as either under the age of 21 or with key phrases indicating they are young.
The Human Trafficking Initiative (HTI) conducted the research through the Heider College of Business at Creighton University. HTI uses data science to collect, analyze and evaluate the scope of sex trafficking across the United States to identify effective policy solutions. HTI is supported by the Women's Fund of Omaha and funded by The Sherwood Foundation.
"It is our hope that this report proves useful to anti-trafficking efforts across the state," said Crysta Price, co-director of HTI.
After analyzing the data, the following recommendations have been identified:
Economic Opportunities: systems change to create meaningful alternatives for employment opportunities that provide a viable path out of the commercial sex industry.
System Collaboration: information sharing with other states and jurisdictions, including private and public agencies, since nearly half of individuals sold for sex travel within the state and 45 percent cross state lines.
Greater Nebraska: bridging anti-trafficking efforts in central and western parts of the state to identify potential anti-trafficking strategies.
Increase Penalties for Buyers: reduce the incentive for trafficking by increasing the penalty and likelihood of being caught.
In addition to the research, the Women's Fund of Omaha has worked with Senator Patty Pansing Brooks to introduce legislation this session, LB 289, that increase penalties for trafficking and solicitation.
"The issues outlined in this report highlight the need for more stringent penalties for human trafficking here in Nebraska. The traffickers and purchasers who prey upon and enslave vulnerable individuals and children should be on notice. Nebraska will no longer tolerate their heinous conduct," said Pansing Brooks. "The current penalties are nothing more than a slap on the wrist for such a despicable crime, and it is imperative that we send the message to traffickers and purchasers that this criminal activity will not be accepted in Nebraska anymore."
The only way to end sex trafficking is to end demand. If you see something, say something. Call the Trafficking Hotline at 1-888-3737-888.
Click here to view/download Nebraska's Commercial Sex Market