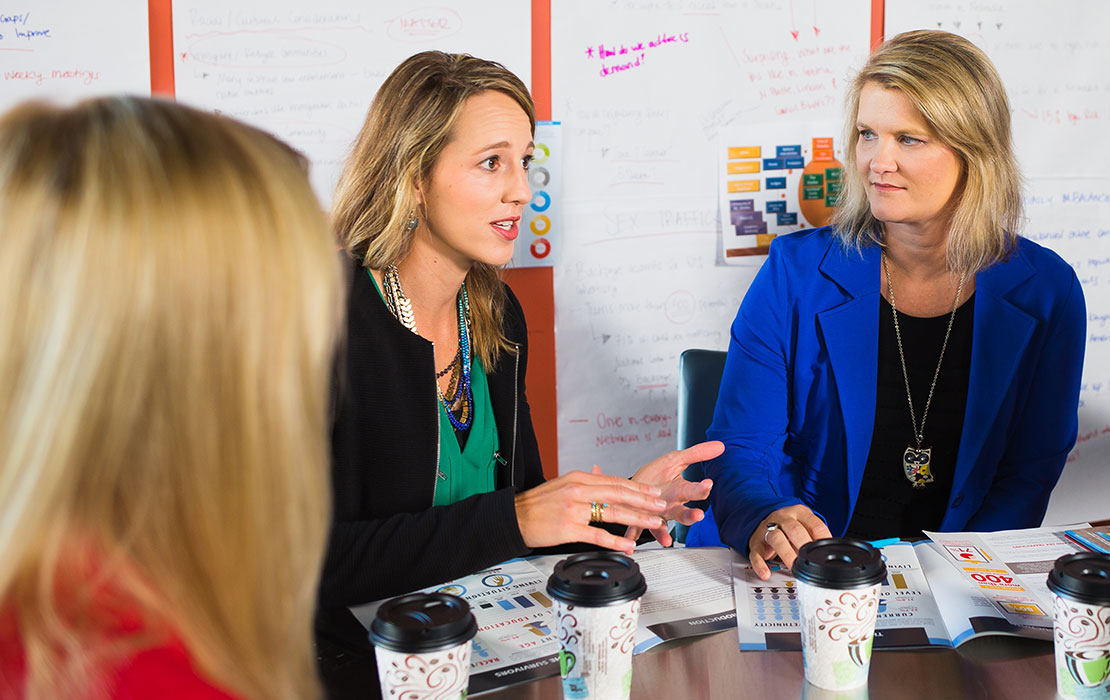 Community Collaboration
The Women's Fund is working collaboratively to ensure that together, we are creating a community where women are free from violence–including sex trafficking, domestic violence, sexual harassment and sexual assault.
Review key accomplishments of the Freedom from Violence initiative in this Mid-Year Report.
State of Domestic Violence in Douglas County
In collaboration with criminal justice and victim service partners, the Women's Fund released a research report, State of Domestic Violence in Douglas County, in March 2019.
Since offenders of domestic violence are held accountable primarily through the criminal justice system, the research report mainly focuses on that system and trends over a three-year period from 2015 to 2017. Data from local agencies who provide services to victims is also featured in the report focusing on victim safety.
Survivor Voices Amplified
We are dedicated to ensuring that we have a survivors' lens on community-wide protocols, agency policies, materials and resources created for victims. Survivors help to inform trainings for professionals; testify for bills and identify services needed in our community.
The Women's Fund provides funding to Survivors Rising, a survivor-led organization, to provide technical leadership in the community – by survivors, for survivors. Research indicates long-term positive outcomes for survivors who are connected to their peers. Mentored by others who have similar experiences, survivors have a consistent resource giving them the ability to move forward.
Learn more from survivors in Nothing About Us Without Us.
Changing the Narrative of Violence Against Women
We believe it's crucial to partner with our allies in the journalism industry to shift the conversation around domestic violence, sexual assault and sex trafficking. Journalists have the ability to shape public perception when they report on these issues. Changing the Narrative of Violence Against Women: A Media Resource was developed to assist in that work. Telling the stories of survivors more completely allows the public to better understand the complexities and realities of violence against women, how to recognize it and, hopefully, how to prevent it in the future.
We invite you to change the narrative and create a community where women and girls are free from violence.
Check My Kit Project Update
When a victim reports a sexual assault and has a sexual assault exam/evidence collection done at a hospital, it has not always been standard to test this evidence for DNA. Over the years, a number of sexual assault kits/evidence have not been tested as it was believed to be not necessary for an investigation. However, nationally and locally, best practices around testing of kits has changed. All evidence/kits are now being tested. As testing evidence is a process, it will take time, up to several years, before all evidence/kits are tested.
If you had a sexual assault exam in the past and would like to know the status of a sexual assault kit/evidence you had collected, or if you would like to opt out of having your kit/evidence tested, please call the Women's Center for Advancement on their 24-hour hotline at 402.345.7273 or you can call the Omaha Police Department Sexual Assault Division at 402.444.5636.
More information is available online at www.CheckMyKit.org.
Sexual Assault Survivors' Bill of Rights
When survivors of sexual assault feel safe and supported throughout their interaction with medical and legal processes, they are more likely to report their assaults, and Nebraska is more likely to hold perpetrators accountable, achieve safety for our communities and justice for survivors. LB 43 will create a safe and supportive environment for all survivors to come forward to seek care and justice following their sexual assault.
Support for Trafficking Survivors and Protecting Child Trafficking Victims
The Legislature has made great strides in modernizing our laws to recognize trafficking survivors as victims, but our state must make services available to protect and support these victims. LB 519 (as amended by AM 1460) includes provisions of three sex trafficking-related bills, and the intent of this package is to ensure that:
All children in Nebraska who are being sold for sex, known as sex trafficking, are recognized as abused and neglected children and are connected to needed services and supports (LB 516);
Trafficking victims have increased opportunities for justice by pursuing damages resulting in their victimization (LB 517); and
Offenders can be held accountable through lengthened statute of limitations and additional investigative tools for prosecution of traffickers (LB 519).
Read more about Supporting Survivors of Trafficking.
Bill to Clarify, Simplify and Strengthen Protection Orders for Survivors
LB 532 will clarify, simplify and strengthen the process of obtaining legal protection for survivors of harassment, domestic abuse and sexual assault.
A victim of violence may pursue a protection order to seek legally-enforceable protections from physical or sexual violence, intimidation or harassment. The type of protection order a victim will seek depends on the specifics of their situation.
Set Aside for Sex Trafficking Survivors
In 2018, the Nebraska Legislature passed LB 1132, which allows trafficking survivors to come forward and have convictions, for crimes they were forced to commit, set aside and the public records sealed. See our fact sheet for more information.
More than 90% of trafficking survivors have criminal convictions because of crimes they were forced to commit while victimized. These convictions continue to restrain survivors, preventing them from seeking employment opportunities, obtaining housing and rebuilding their lives. We will propose legislation that will allow survivors to apply to have these convictions set aside and sealed, giving them the opportunity to move past their victimization.
Harsher penalties and set aside legislature are parts of the solution. The Women's Fund is committed to building provider capacity, increasing education and awareness and creating networks for effective system changes led by strengthening survivor leadership.
Commercial Sexual Exploitation
Every month, 900 individuals are sold for sex online in Nebraska with 70-75% of those sold showing signs for trafficking. Sex trafficking is happening in our state and we are committed to the long-term and comprehensive solutions to ending trafficking. The research, gathered by HTI Labs (formerly the Human Trafficking Initiative at Creighton University), is helping to inform policy change and identify solutions in our community.
This research helped to identify the need for harsher penalties. During the 2017 Nebraska legislative session, the Women's Fund worked with Senator Patty Pansing Brooks to introduce LB 289 to increase penalties for trafficking and solicitation.
If you suspect sex trafficking, report it to the National Human Trafficking Resource Center at 888-373-7888 or text HELP to BEFREE (233733).
Learn more about Nebraska's Commercial Sex Market online. You can also learn more about the collaborative effort to raise awareness about sex trafficking in Omaha at www.StopTraffickingTogether.org.
Community Response Teams
The Women's Fund collaborates with a number of agencies to continuously assess and enhance how our community responds to domestic and sexual violence. By building relationships and gathering and analyzing local data, we bring research and best practices based solutions to some of the largest issues in our community. In doing this, we provide leadership to two local teams and their many projects.
The Douglas County's Domestic Violence Community Response Team (CRT) and the Sexual Assault Response Team (SART) are committed to improving victim safety and holding offenders accountable. These teams constantly strive to improve how each agency responds to these crimes. They do this by sharing information, identifying issues, providing training and changing practices to keep victims safe and hold offenders accountable.
Agencies involved focus on a broad range of issues in criminal justice and civil systems, the child welfare system, advocacy, healthcare and other 'systems' that impact domestic and sexual violence victims and have contact with offenders.
Human Resource Toolkit
Sexual assault, stalking, sexual harassment, domestic violence and sex trafficking are crimes of physical and emotional violation. This violence impacts a large portion of people in the Omaha community, making it difficult for them to go to work, feel safe and live their lives.
Domestic/Sexual Violence and the Workplace: An Employee Toolkit provides local employees with resources on what domestic and sexual violence looks like.  If you have experienced any of these forms of violence, this guide provides you with resources and suggestions for staying safe in the workplace.
This resource was a collaboration of the Women's Fund and the Human Resource Association of the Midlands. The full electronic toolkit is available online for free.
Available Community Resources
Services and resources are available throughout the community. If you need immediate assistance in Douglas County, call the 24-hour hotline at 402.345.7273. If you need assistance in Sarpy County, call 800.523.3666.
Additional resources are available at: