$70.00 covers mileage for our advocacy team to meet with policymakers in Lincoln.
$100.00 ensures domestic violence survivors have a safe place in an emergency situation.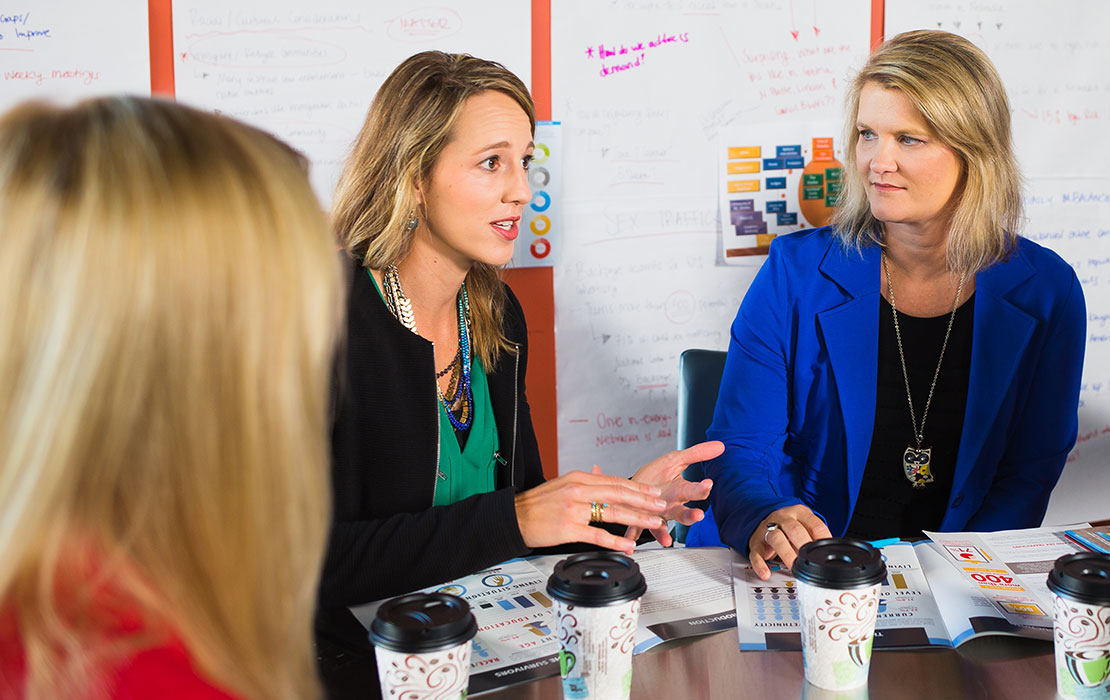 Community Collaboration
The Women's Fund is working collaboratively to ensure that together, we are creating a community where everyone is free from violence—including sex trafficking, domestic violence, sexual harassment and sexual assault.
Review key accomplishments of the Freedom from Violence initiative in this Year-End Report.
State of Domestic Violence in Douglas County
In collaboration with criminal justice and victim service partners, the Women's Fund released a research report, State of Domestic Violence in Douglas County, in March 2019.
Since offenders of domestic violence are held accountable primarily through the criminal justice system, the research report mainly focuses on that system and trends over a three-year period from 2015 to 2017. Data from local agencies who provide services to victims is also featured in the report focusing on victim safety.
Survivor Voices Amplified
We are dedicated to ensuring that we have a survivors' lens on community-wide protocols, agency policies, materials and resources created for victims. Survivors help to inform trainings for professionals; testify for bills and identify services needed in our community.
During the 2022 Nebraska Legislative Session, survivor leaders were critical in the passing of two new laws—LB 1246 to provide survivors of sexual assault and sex trafficking with anonymity, and LB 741 to establish the first-ever domestic abuse death review team in Nebraska.  
And in 2023, survivor voice and advocacy leadership led to the passage of four new laws:
Sexual Violence Prevention Educator's Guide
Educators play a vital role in sexual violence prevention, and students deserve a world free from sexual violence and an education that supports sexual violence prevention efforts. As a public health issue, it is paramount that sexual violence prevention strategies be implemented within institutions and systems, including learning environments.
Education is a primary prevention tool in creating a world free from gender-based violence. The Sexual Violence Prevention Educator's Guide was developed to provide educators with the necessary framework, concepts and resources for how to best engage with students about sexual violence prevention.
Changing the Narrative of Violence Against Women
We believe it's crucial to partner with our allies in the journalism industry to shift the conversation around domestic violence, sexual assault and sex trafficking. Journalists have the ability to shape public perception when they report on these issues. Changing the Narrative of Violence Against Women: A Media Resource was developed to assist in that work. Telling the stories of survivors more completely allows the public to better understand the complexities and realities of violence against women and anyone facing gender-based violence, how to recognize it and, hopefully, how to prevent it in the future.
We invite you to change the narrative and create a community where everyone is free from violence.
Check My Kit Project Update
Sufficient funding is necessary to ensure that sexual assault kits are processed in a timely manner. LB 1079, introduced by Senator Anna Wishart, addressed this need and was passed by the Legislature in 2020. Still there remains a year-long wait between the time a kit is submitted to the State Crime Lab and when it is analyzed and evidence is entered into the DNA database. This means – it may be at least a year before survivors get the justice they seek and we are able to identify and stop serial rapists in communities across our state. LB 1079 was passed as part of the state budget in the 2020 session and provides additional funding for the State Crime Lab to support the timely processing of sexual assault kits. Survivors deserve to know the outcomes of their forensic exams in a timely manner, and our communities are safer when we are able to identify serial offenders.
Sexual Assault Survivors' Bill of Rights
When survivors of sexual assault feel safe and supported throughout their interaction with medical and legal processes, they are more likely to report their assaults, and Nebraska is more likely to hold perpetrators accountable, achieve safety for our communities and justice for survivors. LB 43, passed by the Nebraska Legislature during the 2020 session, creates a safe and supportive environment for all survivors to come forward to seek care and justice following their sexual assault.
Legal Guide for Representing Victims/Survivors of Sex Trafficking and Set Aside Resources
In 2018, the Nebraska Legislature passed LB 1132, which allows trafficking survivors to come forward and have convictions, for crimes they were forced to commit, set aside and the public records sealed. See our fact sheet for more information.
More than 90% of trafficking survivors have criminal convictions because of crimes they were forced to commit while victimized. These convictions continue to restrain survivors, preventing them from seeking employment opportunities, obtaining housing and rebuilding their lives.
In an effort to help all advocates working within Nebraska's legal system understand the complex realities of sex trafficking, learn how to support survivors and gather insight into state and federal legislation, such as LB 1132, we have published, Representing Victims/Survivors of Sex Trafficking in Nebraska: A Guide for Legal Practitioners. This resource was developed by the Women's Fund of Omaha in partnership with HTI Labs, Legal Aid of Nebraska, University of Nebraska College of Law, Civil Clinic – Clean Slate Project and Women's Center for Advancement. The full guide for legal practitioners can be viewed online.
Support for Trafficking Survivors and Protecting Child Trafficking Victims
The Legislature has made great strides in modernizing our laws to recognize trafficking survivors as victims, but our state must make services available to protect and support these victims. LB 518 will build a system of services to support trafficking survivors—both youth and adults. These provisions of LB 518 were not advanced in the 2020 session. Read more about Supporting Survivors of Trafficking.
Amended onto this bill is LB 745 which will assist law enforcement and survivors of trafficking and violent crimes in their pursuit of justice by clarifying the process for T & U visas. Victims of trafficking, sexual assault and other violent crimes who report the crimes to law enforcement may be eligible for a T or U visa. Our communities are safer when victims feel supported in coming forward to report crimes against them. LB 745, passed in 2020, will streamline this process for local agencies and promote victim confidence in coming forward to report crimes.
Strengthening Protection Orders for Survivors
LB 532, passed into law in 2019, clarifies, simplifies and strengthens the process of obtaining legal protection for survivors of harassment, domestic abuse and sexual assault. In 2021, less than 2% of domestic violence protection orders were denied outright. Additional attempts to strengthen protection orders, including extending their duration from one to five years, have been introduced in the legislature but have not moved forward. Learn more about this legislation (English or Spanish). During the 2023 Nebraska Legislative Session, LB 11 (introduced by Senator Carol Blood) was passed to provide clarification in domestic abuse protection orders to include household pets. This update reduces a common barrier to leaving abusive situations, especially for the majority of applicants filling out protection orders without legal assistance. Learn more via our fact sheets (English or Spanish).
View this comprehensive guide for help navigating protection orders in Nebraska.
Supporting Survivors of Domestic Violence Through Housing Protections
Domestic violence survivors should not be evicted because of the violence they have endured, nor should they be forced to stay and live with their abuser because of a lease. LB 320, passed into law in 2021, expands eviction protections for domestic violence survivors and allows for termination of rental agreements through housing protections. This law recognizes the connection between domestic violence and economic security. Learn more about these new rental protections for tenants and how they work (English / Spanish).
Additionally, during the 2023 Nebraska Legislative Session, LB 183 was passed and allows low-income petitioners in name change proceedings to avoid paying fees. By removing this barrier, survivors of gender-based violence will have increased access to name-changing services through the courts.
Human Resource Toolkit
Sexual assault, stalking, sexual harassment, domestic violence and sex trafficking are crimes of physical and emotional violation. This violence impacts a large portion of people in the Omaha community, making it difficult for them to go to work, feel safe and live their lives.
Domestic/Sexual Violence and the Workplace: An Employee Toolkit provides local employees with resources on what domestic and sexual violence looks like.  If you have experienced any of these forms of violence, this guide provides you with resources and suggestions for staying safe in the workplace.
This resource was a collaboration of the Women's Fund and the Human Resource Association of the Midlands. The full electronic toolkit is available online for free.
Community Response Teams
The Women's Fund collaborates with a number of agencies to continuously assess and enhance how our community responds to domestic and sexual violence. By building relationships and gathering and analyzing local data, we bring research and best practices based solutions to some of the largest issues in our community. In doing this, we provide leadership to two local teams and their many projects.
The Douglas County's Domestic Violence Community Response Team (CRT) and the Sexual Assault Response Team (SART) are committed to improving victim safety and holding offenders accountable. These teams constantly strive to improve how each agency responds to these crimes. They do this by sharing information, identifying issues, providing training and changing practices to keep victims safe and hold offenders accountable.
Agencies involved focus on a broad range of issues in criminal justice and civil systems, the child welfare system, advocacy, healthcare and other 'systems' that impact domestic and sexual violence victims and have contact with offenders.
To learn more about sexual assault resources and reporting options, go to www.SexualAssaultHelp.org.
Available Community Resources
Services and resources are available throughout the community. If you need immediate assistance in Douglas County, call the 24-hour hotline at 402-345-7273. If you need assistance in Sarpy County, call 800-523-3666.
Additional resources are available at: